ACT®/SAT®/TSIA2 and State-based Assessments
Identical assessments to measure what matters most.
Individual Learning Paths
Everyone has unique instructional needs and we focus on yours.
Robust Analytics
Actionable data at your fingertips in real time to inform the instructional process at every level.
Professional Test Prep
Success on high stakes exams requires a combination of academic mastery and test performance.
ACT®/SAT®/TSIA2 and State-based Assessments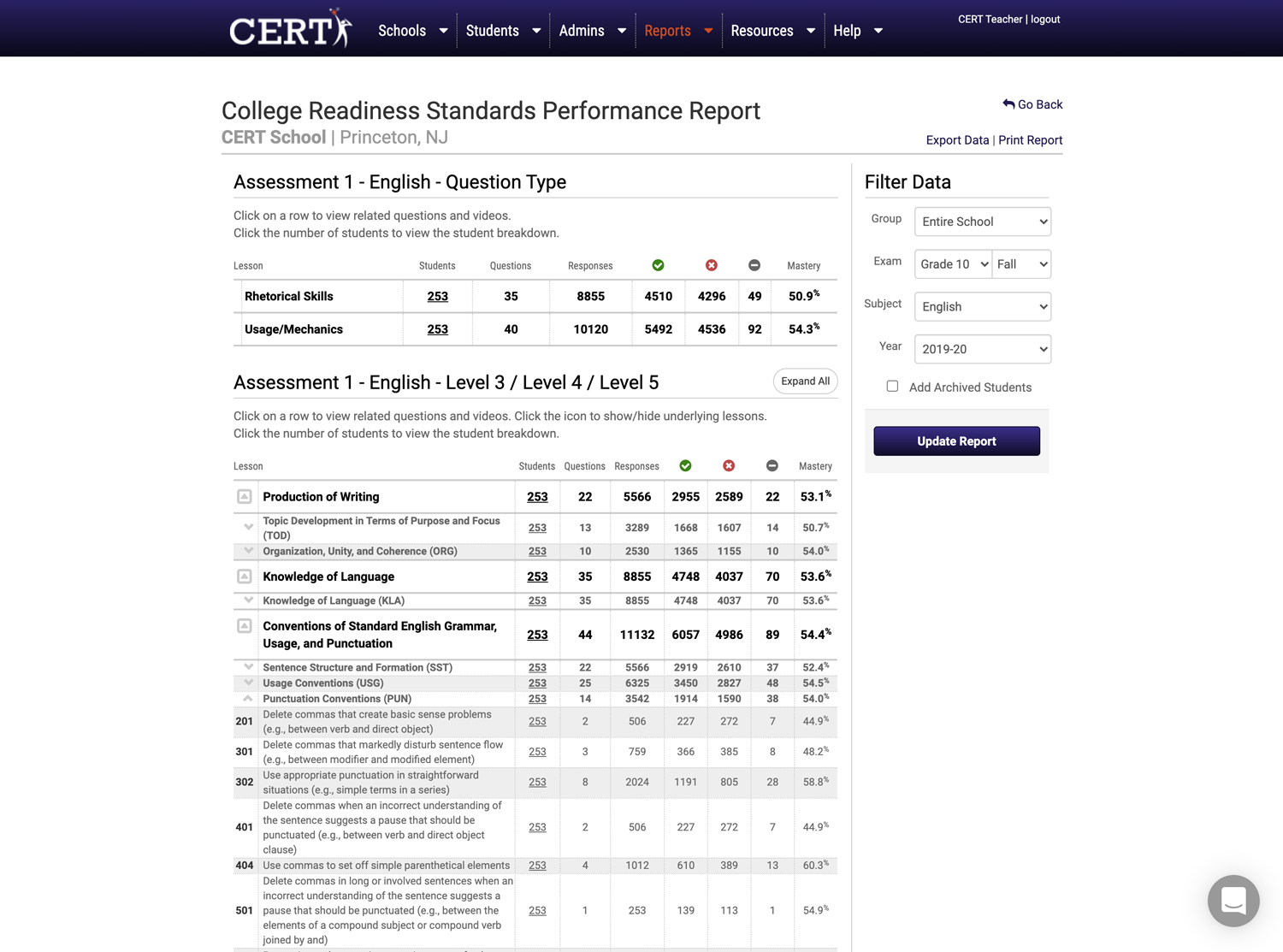 Improving instructional outcomes depends on the accessibility of accurate and precise data that accords exactly with state and national objectives. CERT assessments aren't measuring subjective or momentary standards. Rather, our assessments mimic the ACT® and SAT® in timing/question proportions, content, subcategory proportions, and standard representation. Teachers have enough on their plates, so attempting to make correlations between local, state, and national standard expectations can be overwhelming. Each CERT test beginning in grade 5 is designed to assess both National (ACT® and SAT®) and local (Common Core and various state derivative) standards, so teachers no longer have to face division in instructional focus.
CERT exams take the guess work out of Curriculum-Instruction-Assessment cycle, guaranteeing the most accurate experience on the most critical tests. This allows students, teachers, principals, and parents to know exactly the needs of individual students as they pursue College Readiness and high performance on state mandated assessments at once.
Individual Learning Paths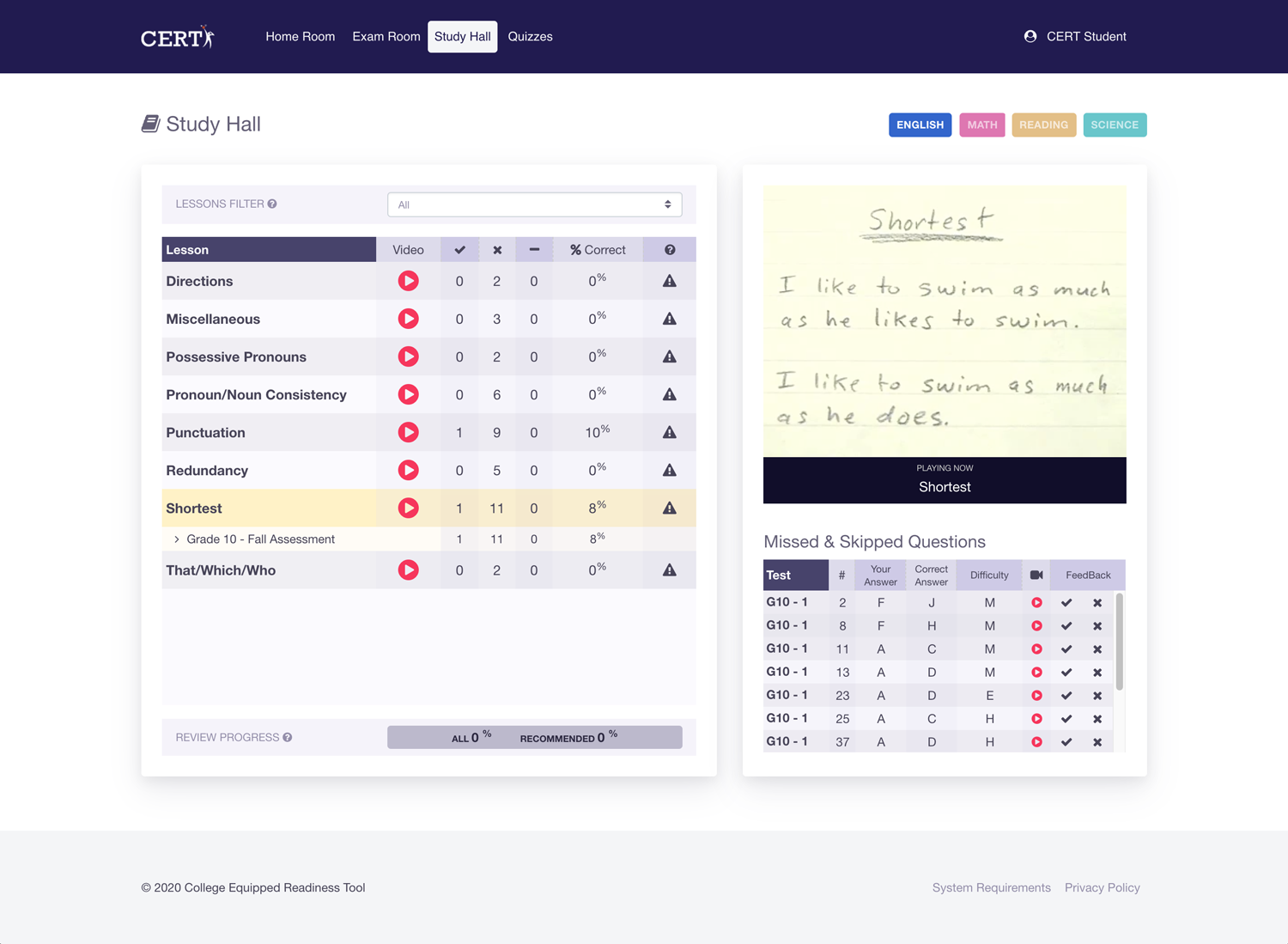 Teachers are faced with a near impossible task: meet EACH student where she is and take her to where she aspires to be. Schools who approach this challenge honestly are seeking to support teachers with new and innovative tools to aid in the differentiation process. CERT's student experience is a robust instructional environment that offers thousands of tutorials and lessons based entirely and exactly on individual student need.
Our intuitive platform identifies underlying skill deficiencies on an individual basis, designs an individual learning pathway for the student, provides research based instructional videos, and alerts the student's teachers of individual strengths and weaknesses based on ACT® College and Career Readiness Standards (and/or) SAT® College College and Career Readiness Benchmarks, the Common Core State Standards, and (often) state-specific standards. With CERT, no student is left behind instructionally.
Robust Analytics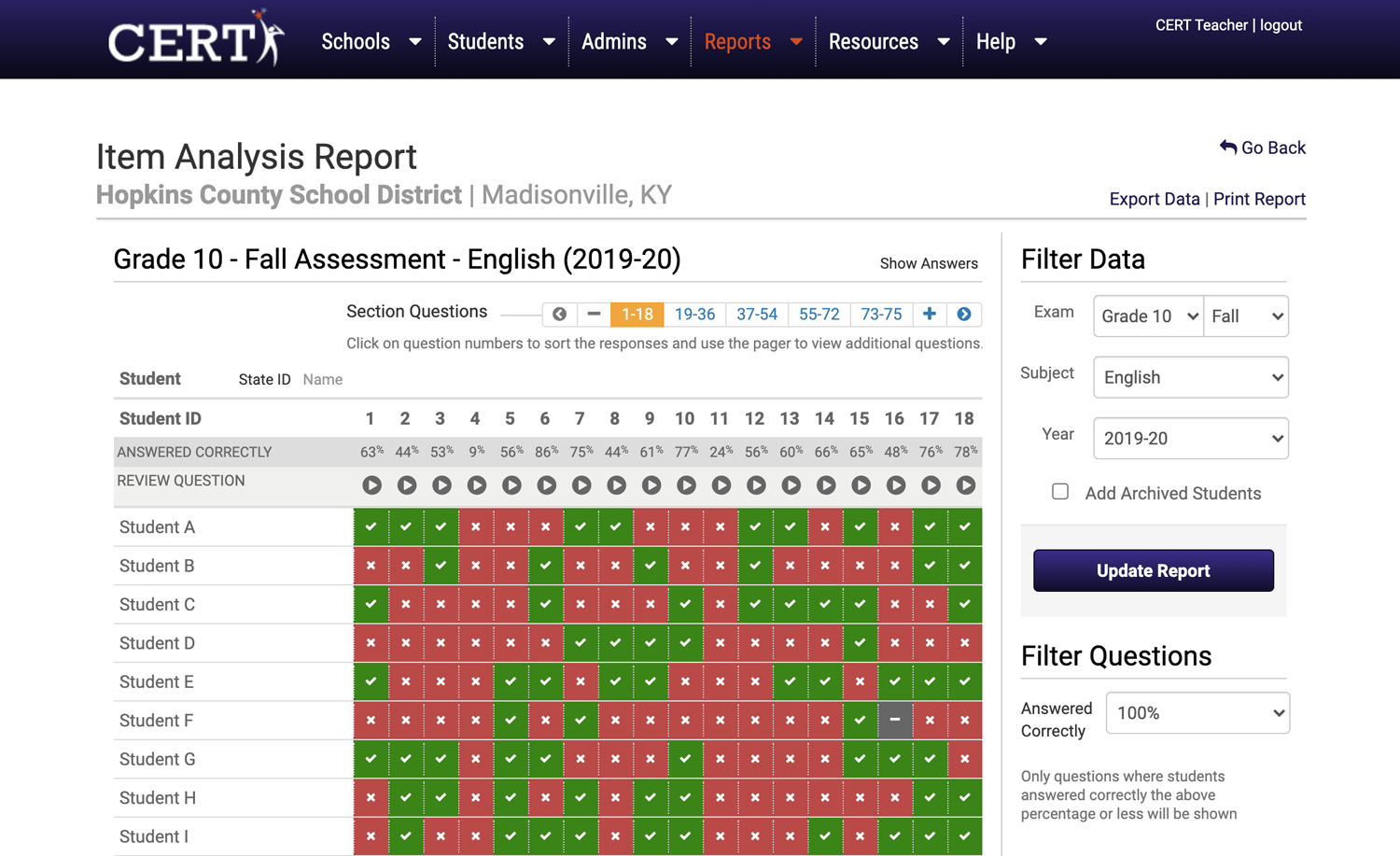 Can we agree on something? The deepest curriculum imaginable paired with the most effective instructional practices conceivable are relegated to futility if not driven by the most critical data available. Principals and teachers are yoked to the burden of college readiness for every student, as typically measured by the ACT® or SAT®. How certain are our educators of future student performance on these tests? Uncertain at best, and totally blindfolded at worst. The truth is, teachers and principals need real, actionable data to inform a standards-based instructional process.
Our reports are strategically designed to provide the greatest degree of insight with the least amount of effort. Because CERT was developed with principals, teachers, parents, and students at the table, the analytical design is tailored to the actual, specific needs of all stakeholders, not the theoretical dreams that tend to come from most assessment programs. After all, data serves but one purpose – telling the evolving story of improving student outcomes.
Professional Test Prep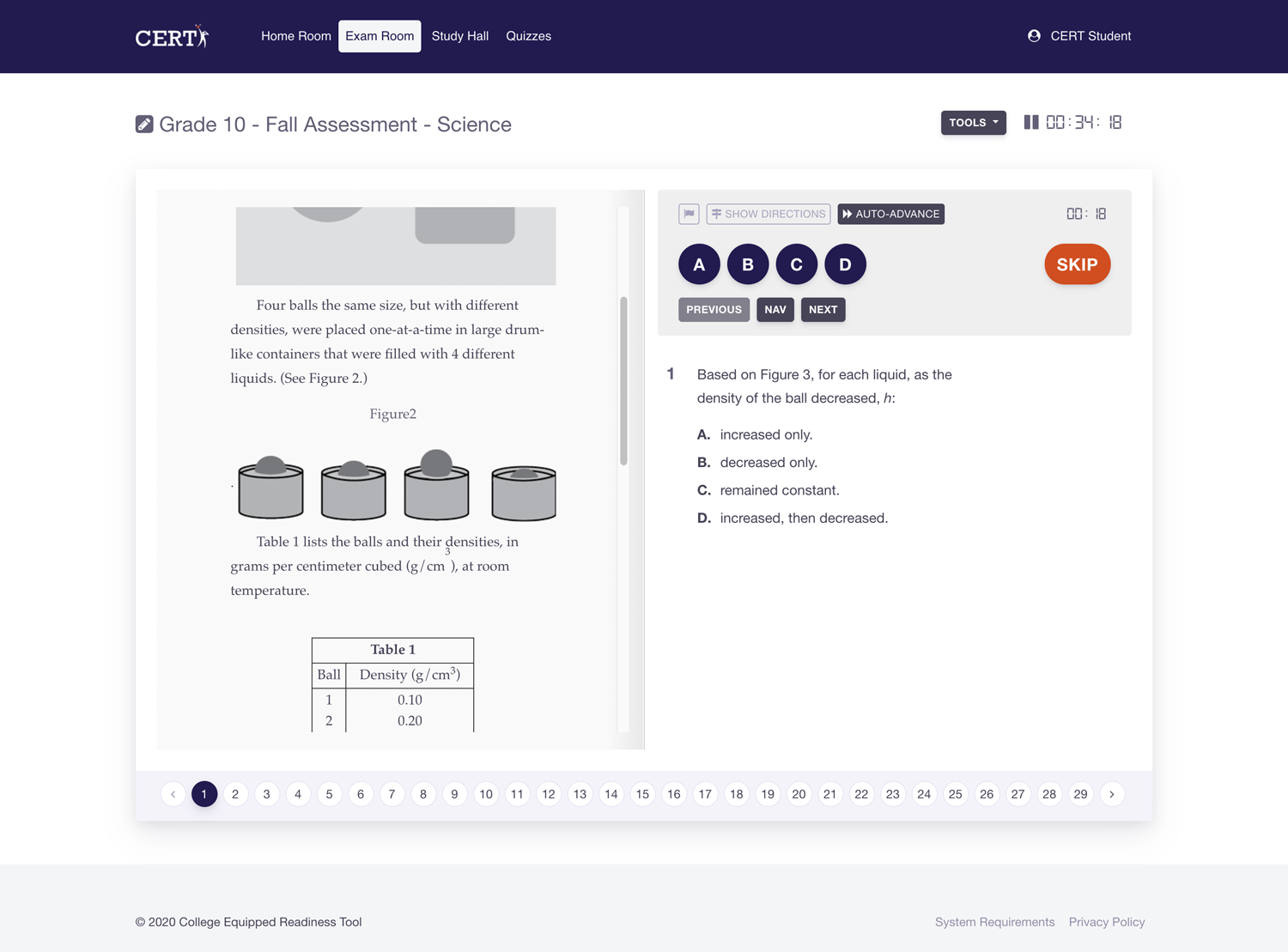 Let's be clear – CERT is an assessment program with individualized remediation based on student and group performance. If we're being honest, however, preparing well for standardized college exams matters, as a single point can be the difference between a qualifying and disqualifying score for admission or scholarship. For this reason, CERT has included test-prep strategies throughout the student remedial experience. This happens by way of question timing, question type analytics, and test-prep strategies for each of the four subject areas.
All CERT video test prep is provided by an expert ACT®/SAT® tutor, who is also the founder and CEO of ePrep, the parent company of CERT. Our tutor has decades of experience in preparing students of all ability levels for some of the nations' most prestigious colleges and universities. Don't trust just any company with "prep" in the name. Rather, trust the professionals who have perfected the methodology that all others are trying to mimic.